Ferdinand Albariño
Product: White wine, dry
Listing date: 31.05.2019
Product number, Alko: 574854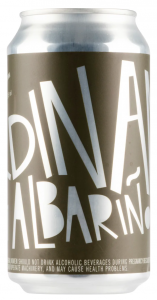 Packaging: Can
Volume: 330 ml
Producer: Ferdinand
Country: United States
Region: California
District: Lodi
Acid: 4.3 g/l
Res. Sugar:
Alcohol content: 12.8% vol
Temperature to drink: 10-12°C
Grapes: Albariño
Colour: Light gold
Nose: Balanced and attractively fragrant
Mouth: Dry, acidic, ripe citrus notes, yellow plum notes, honey melon notes, spicy, light herb notes, slightly baked.
Soil: Cobbled, rocky soil
Vinification: Respecting its Californian origins the wine is neutral barrel fermented with native yeasts and rests
on lees for 6 months. ML is not blocked giving the wine savoriness and providing a rounded balance to its natural acidity and freshness and allowing it to be canned unfined and unfiltered.
Enjoy together with: Fatty fish, pork, chicken, turkey or as a party wine
Price: €9.98