Stirling Pink Gin
Product: Distilled Gin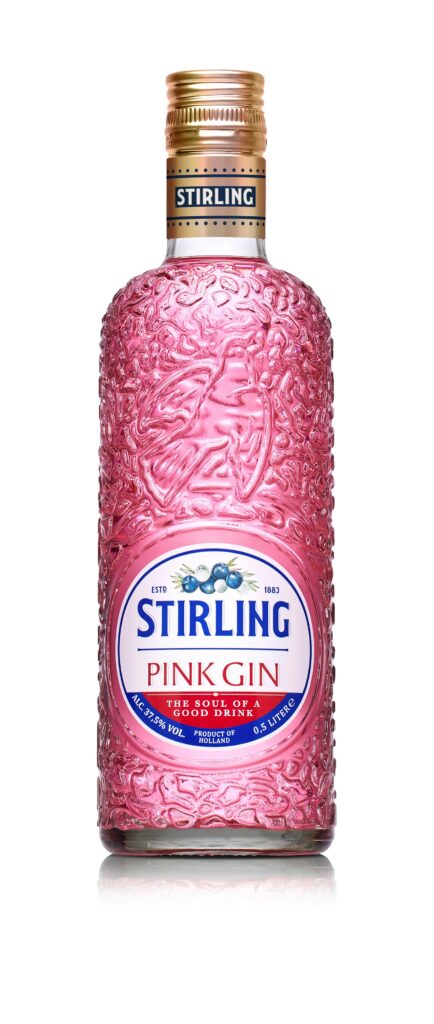 Product number, Alko: 119576
Packaging: Glass bottle
Closure: Screw cap
Volume: 500 ml
Producer: Boomsma Distillery
Country: The Netherlands
Res. Sugar: 53 g/l
Alcohol content: 37.5% vol
Temperature to drink: Chilled
Colour: Pink
Nose: Herbs and strawberry
Mouth: Herbs and strawberry
Enjoy together with: It is a very well balanced pink gin with mixed taste of juniper and various other herbs in combination with strawberry flavor and a light sweetness. Very smooth in consumption chilled and with ice cubes and fresh strawberries.
Vinification: Double distillation at our distillery located in Leeuwarden , The Netherlands. Distilled with juniper berries, angelica, coriander, and various other herbs with strawberry flavoring , sugar and natural coloring.
About the producer: Boomsma Distillery is a reputable distillery, established in 1883 and based in the province of Friesland in The Netherlands. The company is still an independent family owned business, now with the fifth generation in charge. Boomsma offers an extensive range of spirits which are distilled and bottled in house. Website : www.boomsm.frl. See also the company presentation in the attachment.
The producers personal opinion about the product: An easy fresh and youthful product , ideal from early spring to warm summer evenings as well as winter parties.
Price: €16.50