Bosseq White Frizzante can

Product: Aerated semi-sparkling dry white wine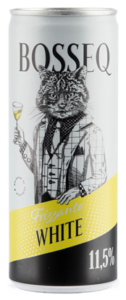 Product number, Alko: 517623
Packaging: Can
Volume: 250 ml
Vintage: NV
Producer:Canter Borház
Country: Hungary
Acid: 6,3 g/l
Res. Sugar: 5,0 g/l
Alcohol content: 11,5% vol
Temperature to drink: 8° C
Grape varieties: 100% Olaszrizling (Welschriesling)
Nose: Light, citrussy, fruity, fresh, crisp wines with mineral notes as well as soft acidity.
Mouth: Its aromas are characterised by almond blossom, green apple, walnut and hazelnut.
Soil: Lime stone, basaltic lava and tuff rocks, loamy soils.
Vinification: Temperature-controlled fermentation in stainless steel tanks, ageing on lees for 3 months, added CO2 before canning.
Information about the producer: The winehouse was built as one of the most modern wineries in Europe in the picturesque surroundings of the northern coast of Lake Balaton, in the heart of the wine region Balatonfüred-Csopak.
Enjoy together with: For summer barbecues and light salad or vegetable dishes.
Price: 3,83 €